The power of social media for consumer focused companies is obvious, but B2B marketers can have excellent return from advertising dollars on Social Media too, you just have to know how to use it strategically. We've put together the top 4 ways to use Social Media to win big in B2B.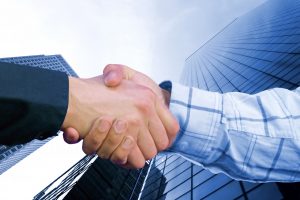 Don't just "Sell", Instead Inform and Entertain
While social media is a great way to reach additional people to promote your products and services, only doing that can have a negative impact. Instead use social media to inform your audience and entertain them. Examples of informing posts include showcasing awards, philanthropy and partnerships that your company has pride in. These informing posts tell a story about your company and your core values, which endear a business beyond just a service or product provider. With entertaining posts, you are engaging your audience in a light hearted or heartwarming experience, further solidifying your business as a caring, fun business to work with.
Use Video to Tell a Story
The statistics on video are outstanding, 3.8 Billion Daily views of video on Facebook alone! With video you can tell the story of your company, your employees, even the cities of your offices. With this organic platform, the content is easy to digest, visual and an entertaining experience for your potential clients. One important note about Facebook video viewership: 9 out of 10 videos are watched without sound, so make those videos impactful without voice. Using captions over your videos solve this issue and allow you to hit home important messages.
Offer Premium Content to Educate
Using Facebook ads in conjunction with Facebook Pixel technology, you have control over your messaging, your goals, your audience and your budget, all combined with measurable actions to ensure your ad dollars are spent wisely. By combining these tools with unique offers for premium content, you will increase your leads and conversions for B2B business clients. Premium content can be an exclusive blog post or webinar, an e-book or a How-To Guide. Anything that your potential client will find valuable and relates to your business. By "dangling" this content in your ads, you will increase lead generation and conversions all while exemplifying your expertise in your field.
Have a Regular Facebook Live Show
Create a weekly, biweekly or monthly Live Show that educates and entertains your current clients and potential clients. Like videos, you can engage and endear your company to the over 1.65B people worldwide that are on Facebook. With Live Shows, you can create real relationships by allowing users to ask questions during your show, creating a forum to increase engagement and build trust.  Creating the show on a regular basis, instead of randomly, allows clients to put your show on their calendar, schedule time in their schedules for it and look forward to the next installment.
At SocialTrend we know first-hand the impact these strategies can have. If you don't want to handle these on your own, give us a call and let's discuss your B2B marketing strategy.